APX600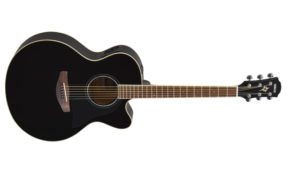 CPX600
Yamaha recently announced the APX600 and CPX600 acoustic-electric guitars. These are instruments that build and improve on the excellent craftsmanship, handsome design, rich tones, and easy playability of the top selling APX500III and CPX500III. These guitars are a great fit for country, rock and blues, and are suited for players ranging from beginners to seasoned professionals. Acoustic-electric hybrids have surpassed conventional acoustic guitars in popularity, and the upgraded APX and CPX models address the trend towards smaller-body and shorter-scale instruments.
The APX600 continues the company's thin-body line of guitars, while the CPX600 offers a medium-jumbo profile. While the new models maintain the scalloped bracing and premium electronics of the 500III generation, key new features include fresh finishes for both models, and an upgrade to a genuine abalone rosette in the APX600 for a superior acoustic tone. In addition, the scale length of the APX model has been shortened from 25 9/16″ to 25" for greater playability.
The thin-body APX600 features a spruce top, eastern mahogany back and sides, die-cast tuners and the Yamaha exclusive System55T preamp, a 1-way piezo pickup with 3-band EQ with an adjustable midrange, and an onboard tuner. The medium-jumbo (Compass) profile CPX600 is the full-bodied sibling of the APX600, and also offers a spruce top; eastern mahogany back and sides; die-cast tuners, and System55T preamp.
"Guitarists today favor acoustic electric instruments that carry a smaller profile to make them more portable and versatile in both amateur and pro settings," said Dennis Webster, product marketing manager, Yamaha Guitars. "The APX600 and CPX600 are the perfect answer, and these latest models are built to suit the needs of discerning players."
The APX600 will be priced at $470 and the CPX600 will be priced at $575.
Original Article by Press Staff of Premier Guitar (premierguitar.com)